Ladies, gentlemen, and those that are not sure just yet… pleased to meet you!
I am the bearded one they call Aaron Broke.
I've been in this glorious industry of body art since 2008.
I've spent three years as an apprentice under Randy V.; an award winning artist from Ink Master.
My studies in art go as far back as I can remember….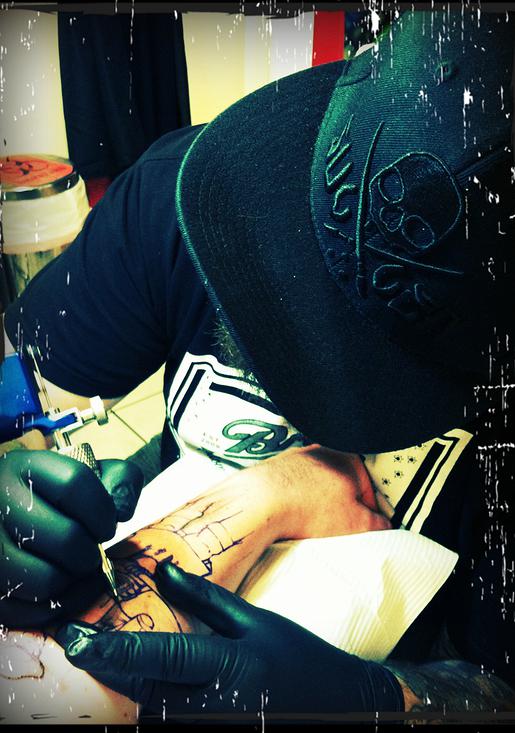 At 6 years old I was reading comics and trying to draw and mimic the characters from the pages.
Soon I expanded to the characters, objects, and people my friends would ask me to draw and color.
With the strong support of my parents I continued to move forward into turning my passion into a full time career.
I attended art school at Macomb Community College in Warren MI for 4 years and graduated with a degree in Graphics and Communication Arts, which almost immediately I turned into a full time graphic artist position at a metro Detroit area silkscreen shop.
I work in many mediums such as pencil, pen, watercolor, acrylics, aerosol, photography, digital graphics, print media, clothing, and even sculpture. I alway try to keep learning new and creative ways to bring them into tattooing.
I enjoy most types of tattoo art, but by far my favorite style is traditional mixed with a bit of neo-traditional or color bomb work.
The big bold lines and super bright, saturated, colors speak to me, well not literally "speak" to me because that would be creepy and weird!
So come by Vicious Ink Tattoos located in Sterling Heights, and see me, your local eastside area professional tattoo artist, so we can put that permanent piece of art on you!
Or if you are not sure yet just come by and say hi and stay and hang out, we keep it fun and friendly in here.
Cheers!
Aaron Broke